Q: Which way should ceiling fans turn in the summer and winter?
A: IN THE WINTER, set the fan to run counterclockwise (reverse) (this looks clockwise as you are looking up). IN THE SUMMER, you should operate your fan so that it turns clockwise (this looks counterclockwise as you are looking up).
Q: How long can I expect a new furnace or air conditioner to last?
A: If you have a qualified technician perform regular preventative maintenance and service suggested for your unit, industry averages suggest that an air conditioner should last 12-15 years and a gas furnace should last as many as 20-25 years.
Q: Should I change my indoor air conditioning coil?
A: When replacing your air conditioner or heat pump, the answer is most likely yes. The efficiency ratings that are advertised for an air conditioner or heat pump are based on the performance as part of a matched system. If only the outdoor portion is changed, the efficiency and savings could be less than that of a matched system. (Warranty's could also be affected)
Q: How often should I change my filter?
A: Lack of regular filter changes and maintenance is the Number 1 cause of system breakdowns and costly repair bills.
Q: What does UV Sterilization light do?
A: Ultraviolet lights can be used to kill germs and mold in cooling coils, condensation trays and ductwork.
Q: What should I do before I call for service on my air conditioning system?
A: Check the filters to make sure that they are clean.
Check the breaker that serves the indoor furnace and the outdoor unit.
Are the outdoor unit and the indoor unit both running?
Check the thermostat to insure that it is properly set below the room temperature and the system switch is in the cool position.
Check to see if there is water in the drain line.
Is there frost on the larger refrigerant line with the black pipe insulation? If so, turn the system off and call for service. This will allow the unit to defrost before we arrive.
Q: What's that black stuff on my ceilings and vents?
A: Burning candles can be the culprit for the black on your walls and ceilings as well as polluting the air your family breathes.
Q: Should I get my ducts cleaned?
A: Duct cleaning has never been shown to actually prevent health problems. Neither do studies conclusively demonstrate that particle (e.g., dust) levels in homes increase because of dirty air ducts. This is because much of the dirt in air ducts adheres to duct surfaces and does not necessarily enter the living space. It is important to keep in mind that dirty air ducts are only one of many possible sources of particles that are present in homes. Pollutants that enter the home both from outdoors and indoor activities such as cooking, cleaning, smoking, or just moving around can cause greater exposure to contaminants than dirty air ducts. Moreover, there is no evidence that a light amount of household dust or other particulate mater in air ducts poses any risk to your health.
Q: Which air conditioner brand is the best?
A: There is NO best brand. There are best installers. Find a company that does good work and have them do the job no matter what the brand name is on the equipment.
Q: Does my house need surge protection for the HVAC system?
A: When the HVAC did not have any PC boards the surge protection was not needed, but when manufacturers started using electronics, this requires protection against lightning. Most manufacturers use some form of electronics on modern HVAC equipment.
Q: How often should I have maintenance done on my air conditioner?
A: You should have maintenance done on your air conditioning system once a year. This not only ensures maximum efficiency, it enables us to foresee any possible problems that may occur in the near future.
Serving Central Florida:
South Lake County
Clermont
Minneola
Davenport
Four Corners
Winter Garden
Kissimmee
Lake Buena Vista
Groveland
Mascotte
Windermere
Gotha
Ocoee
Minneola
Leesburg
Montverde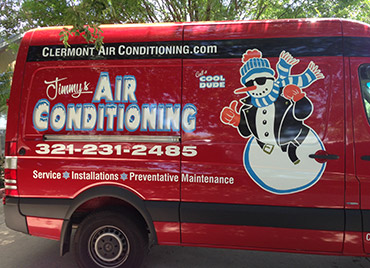 "Unbelieveable service, when Jimmy said he was going to be there at 10:00AM he was not kidding. He did an excellent job and my day was not ruined waiting around."
- John and Carol V.
Davenport, FL
Call (321) 231-2485 or Contact Us Today!